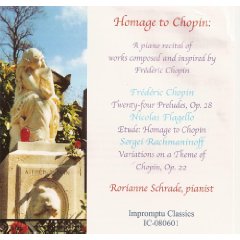 RORIANNE SCHRADE'S THIRD RECORDING:
Homage to Chopin (IC-060801, Rorianne's 2008 CD is now released!

Included are Frederic Chopin's 24 Preludes, Op. 28, Nicolas Flagello's Etude, Homage to Chopin, and Sergei Rachmaninoff's Variations on a Theme of Chopin, Op. 22 (based on Chopin's Prelude in C Minor).

To order, please go to www.amazon.com, CDBaby.com, or your favorite classical CD site.

Recent comments include the following:

FROM AMERICAN RECORD GUIDE (Jan/Feb 2009 Issue):

"Schrade ranks right up there with Bolet, Rodriguez, Wild, and Shelley at the top of the list... Schrade's performances are marvelous. She has a big virtuoso romantic approach that is exactly what I like in these works. She is also capable of soft, nuanced legato phrases – often called for in these works. She notes that this is a recital that she has performed many times, and it shows in her approach to the Chopin especially.... I will keep my eyes open for further recordings from this label and artist."
(for complete review please see page entitled "2009 review")
James Harrington

FROM CLASSICAL VOICE OF NEW ENGLAND:
"Schrade plays precisely, expressively, and seemingly effortlessly…this lovely recording is heartily recommended."
Marvin Ward
© 2008 Classical Voice of New England, Inc.




---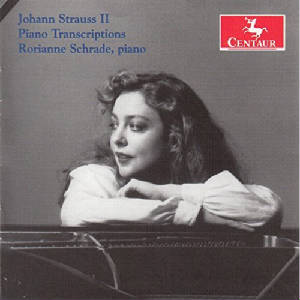 ALSO AVAILABLE: PIANO TRANSCRIPTIONS OF JOHANN STRAUSS II (Centaur Records, CRC 2721)
REVIEW
by Patsy Morita in the All Music Guide, 2005

These paraphrases on the waltzes of Johann Strauss, Jr., are what is to be expected: highly florid and virtuosically showy. However, that doesn't mean they are all flash and no substance, particularly in the hands of Rorianne Schrade. She brings out the original melodies and uses the flourishes to enhance the elegance of Strauss' already elegant music. Much of that extra material is also used to keep the music flowing and gliding along so that the pulsing of the waltz can be felt without the "oom-pah-pah" accompaniment. Schrade gives the waltzes continuous movement and sparkle without being too dramatic at the beginnings and ends of themes or with the bridges between themes. The Dohnányi is not quite as flowery as the Schulz-Evler, Godowsky, or other arrangements, but Schrade's own arrangement of "The Kiss Waltz" fits right in with the others, filled with fluid ripples of accompaniment. Erich Wolfgang Korngold's "Tales of Strauss" is actually the oddball here. It's an original work by Korngold that combines themes by all of the Strauss family, not just Johann Strauss, Jr., and rather than being a grandiose showpiece, it's more nostalgic and playful in its tone. These arrangements of Strauss waltzes do not have much more in common with their original orchestral versions than the melodies, but Schrade makes sure they have the same energy, sophistication, and richness. Patsy Morita
---
Johann Strauss II Piano Transcriptions (Centaur 2721)

REVIEW by Alan Becker, The American Record Guide, 12/05

My only complaint relates to the playing time. It is so good that I wanted the full 80 minutes - another two or three selections. Schrade, who teaches at the Manhattan School of Music, is justifiably praised by our own Harris Goldsmith who, on the basis of her Weill Hall recital, spoke of "communicativeness ... delectable flair and ... the nuance that had this listener thinking of Rachmaninoff's own recordings."

Not only is the concept behind this recording interesting, but the sheer fun of it all is hard to resist. Schrade sparkles and bubbles her way through these charmers with a light touch and enjoyment that makes a tangible thing of what some would call pure froth. Schulz-Evler's famous piece based on The Blue Danube leaves nothing to be desired; her technique carries all before it. Without attempting to impress by calling attention to her skills, Schrade sweeps things along with a glint in her eye.

Godowsky's Artists' life is the longest work here and the one that invites the most bombastic display. Not so here; it calls forth smiles rather than impatience. Schrade avoids the longueurs by keeping her volume in check and by carefully contrasting the different episodes. If the music does overstay its welcome sometimes, that is less of a problem in this performance.

Schutt's Tales from the Vienna Woods paraphrase is an imaginatively conceived piece that strays harmonically and rhythmically from the original but still keeps its shenanigans in 3/4 time, while Tausig's We Live But Once waltz caprice is a celebration of Strauss's wife Adele. As befits a Liszt pupil, the work strays imaginatively all over the place.

Dohnanyi's Du and Du draws its melodies from Die Fledermaus and keeps the tipsy energy of the original. Schrade herself contributes The Kiss Waltz, a perfectly lovely piece that does not stylistically conflict with the others. It is dedicated to her husband and displays a warmth and romanticism that must have warmed his heart.

Korngold's Tales of Strauss is direct in its use of themes. While it does stray in the central section, the excursion only takes us to the lush romantic harmonies typical of this composer. Schrade brings her love of the music very much to the forefront here with playing that keeps us from overdosing on 3/4 time. The playing is so good you may actually want to press the repeat button on your player.
--------------------------------------------------------------------------------------------------------------------------------------------------------
---
ALSO AVAILABLE: 1995 RECORDING OF WORKS BY BALAKIREV (Centaur Records, CRC 2236)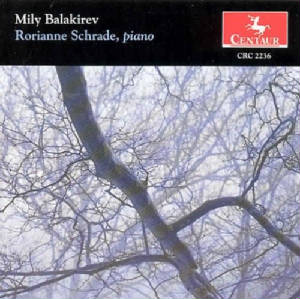 "You won't get many chances this good to get acquainted with an attractive Russian composer [Balakirev] who stubbornly refused to publish much of his music until late in life...Islamey, perhaps the greatest fingerbreaking challenge in all the literature for piano, is given a bravura performance by Schrade." Classical Disc Digest, Vol.4, No.5, 1996
*******
"In presenting an album of works by the little known Russian composer Mily Balakirev (1837-1910), pianist Rorianne Schrade has found the perfect vehicle for dislaying her tremendous depth of expressiveness and virtuosity...The pianist's range is stunning, equally expressive in the stark, quiet passages and the wild, impossible sounding rhythmic sections...Thankfully, Balakirev exemplifies how Ms. Schrade's piano artistry and her own self-discipline and commitment to her art can satisfy our longing for natural beauty and release." Paul Burton, Bravo Newspaper, 1996
---